You carefully planned the days activities, laid out the sun cream and prepped the picnic the day before, yet when you open the curtains in the morning, disaster strikes…It's raining! And just like that all your plan ideas are out the window, and it seems you'll be subjected to the kids moaning about how 'bored' they are as you try to occupy them all day. Sound familiar?
Although we all like to hope every day in summer will be full of sunshine (fingers crossed it will be), here in Scotland the chances are we will have a few horrible days! So, on these days what can you do with the kids?? Don't panic, we have some ideas up our sleeves that will save you from going insane!
Indoor Activities in Dundee and Angus, ideal for rainy days.
1 Cultural activities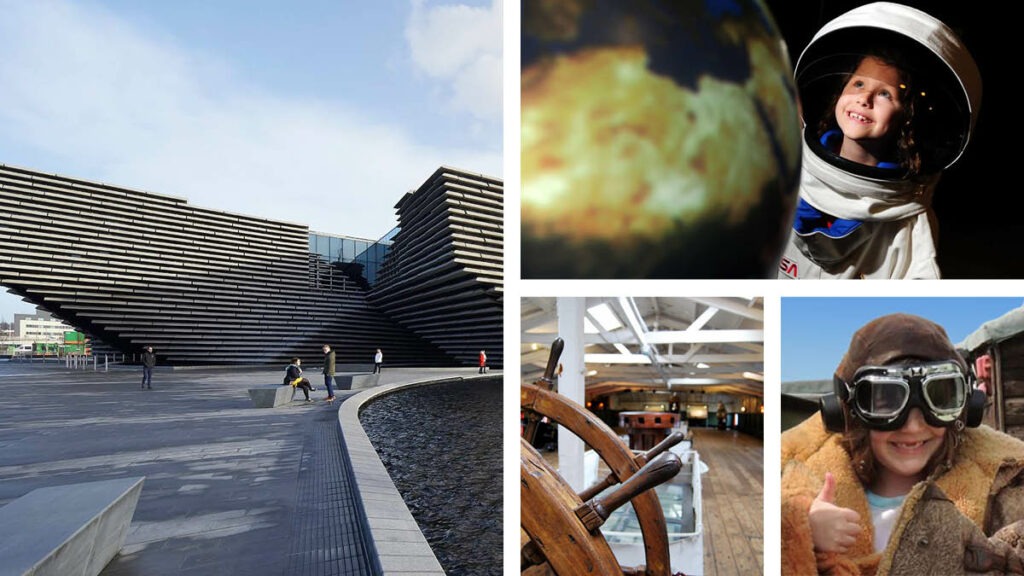 Learn some local history, try out some experiments or tinker with an art & crafts project this summer holidays
Science Centre Dundee
Website: Science Centre Dundee
The science centre is great fun for families, with activities to engage you no matter your age, it makes the perfect day out. Spend hours here exploring the various exhibitions and shows. The kids will be so busy having so much fun climbing, exploring, playing with lasers and robots, that they won't even realise they are learning!
Discovery Dundee
Website: Discovery Dundee
This old ship has been restored to show exactly what life would have been like for Captain Scott and his team, see the cabins and working space as you explore below the decks. The centre itself is full of activities and exhibits that allow the kids to get involved and learn in an interactive way.
Montrose Air Museum
Website: Montrose Air Museum
This museum aims to show the human side of Air Stations, through a collection of photographs and objects. With free admission for children, it's the perfect place to let them explore and learn about a history so important to our local area.
HMS Unicorn
Website: HMS Unicorn
At nearly 200 years old, the HMS Unicorn is a remarkable ship preserved and turned into a museum. With four decks to explore, stepping into this ship is like stepping back in time. Learn all about this ship and the importance of the Navy in Dundee.
McManus Galleries
Website: McManus Galleries
This art gallery and museum hosts a number of exhibitions, attractions and events. There's lots to see and learn about, and with their creative suite targeted at grabbing your kids attention, it's the perfect place for them to learn while having fun!
Mills Observatory
Website: Mills Observatory
The Mills is Britain's first built public observatory. Here you can watch the stars, trace the planets and use the computerised telescope to learn about what's up floating around in space. A fascinating experience for all ages, and a great way to get kids thinking about the universe and space!
V&A Dundee
Website: V&A Dundee
The V&A Dundee, is the only V&A museum anywhere in the world outside London. It aims to inspire and teach through the world of design. When visiting this international centre of design, you can enjoy the exhibitions, see the stories behind them and visit the shop. With a cafe and restaurant, which are both child friendly, and activities for kids you can happily spend the day here exploring as a family.
Broughty Ferry Castle
Website: Broughty Ferry Castle
The Castle is a great free indoor activity, full of historical information, it lets the kids explore the past in a fun way, whilst still learning. Their interactive activities and animal room, are tailored to keep the kids interested whilst you explore this old castle. The castle staircase is a tricky climb, but it's a great view from the top. You might even see a dolphin or two out at sea!
2 Sport Activities: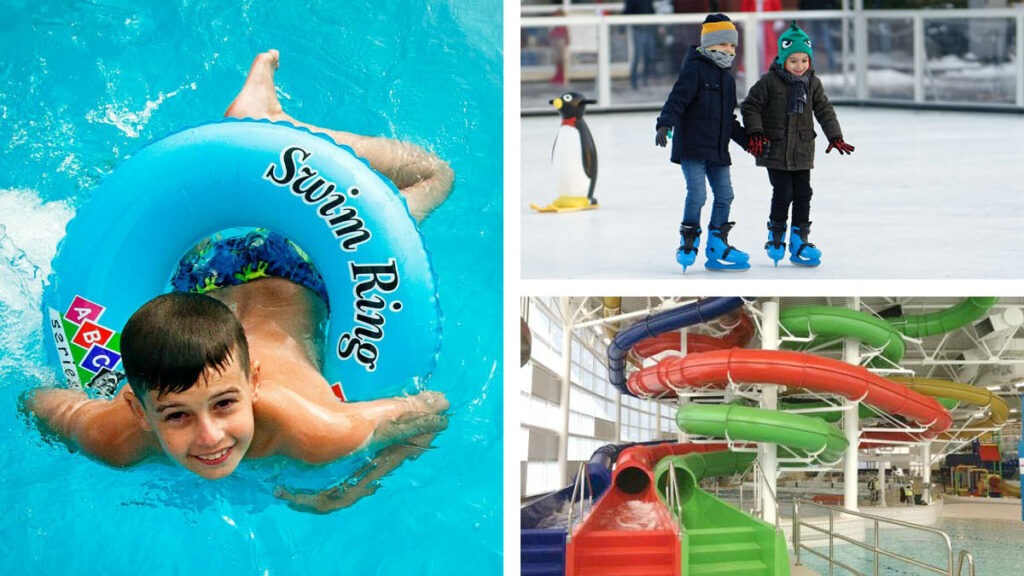 Skate, swim and exercise at the sport centres this summer
Forfar Indoor Sports
Website: Forfar Indoor Sports
This ice rink allows everyone of all ages to get involved and try sports such as ice skating, pickleball (yea we'd never heard of it either?!) and indoor bowls.
Montrose Sports Centre
Website: Montrose Sports Centre
Montrose sports centre hosts some great activities for the kids over summer. From squash classes, to trampoline lessons, to kids club, there is plenty to keep them entertained. You can also take advantage of the two swimming pools. With a small one perfect for little one, and a bigger pool for kids who are more confident, you can have hours of fun watching them splash. The cafe means you can grab a coffee with your friends, while the kids enjoy lessons and blow off steam.
Olympia Pool, Dundee
Website: Olympia Pool, Dundee
The pool at Dundee is great fun for the whole family. With a kid's area, you can have fun with your little ones, helping them to become more confident in the water whilst they play. There's also a large pool, rapids, and water-shoots, to keep older children entertained. There's also a café, perfect to grab a coffee in after.
3 Play Centres: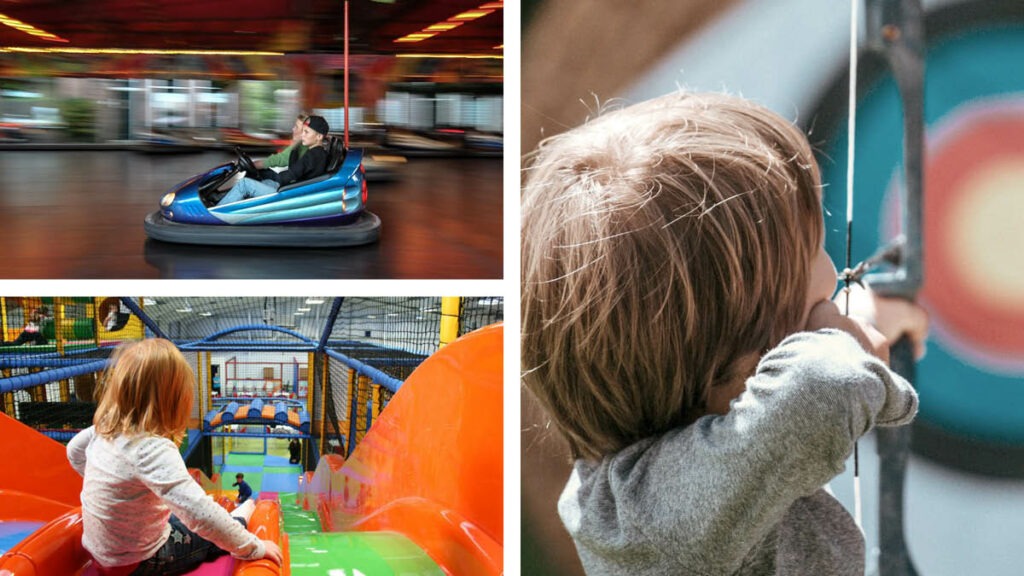 Climb, slide and blow off steam, running about these different activity centres.
Pleasure-land
Website: Pleasure-land
Pleasure-land has a soft play centre, perfect for younger children. It has amusements such as arcade machines, indoor trampolines and pool tables. And it has Dodgems, Bungee Trampolines, Racing bikes, Waltzers and other rides. With something for everyone, it can be a great family day out.
Jumping-Joeys
Website: Jumping-Joeys
This Arbroath soft-play has a large soft play area, monitored by their team, which means you can sit back and relax as the kids play. The 'babies' only area, allows your little ones to have fun without you worrying they will be knocked over by the bigger children. There's also a sensory room for children under five or with disabilities, which gives your little kids a new experience and somewhere for you to take your children, if they have disabilities stopping them enjoying the main play area. There's also a café and free Wi-Fi on site, perfect to help you or your teenagers enjoy the day too!
Ryze
Website: Ryze
This extreme sports centre based in Dundee makes a fantastic day out. You can get involved playing on the silks, jump in the foam pits and play on the different trampolines. With lots to do, there's something for the whole family to enjoy!
There's also a cafe on site serving up cakes and coffee for those who don't feel like trying out the activities.
Piperdam Soft Play centre and other activities
Website: Piper dam
This soft play area is located in Dundee and is perfect to take your little kids too. There's a designated baby and toddler area, so you can relax knowing they are safe as they play. There's also a section for slightly bigger kids, to run around and blow off steam. You can also get involved with archery, crossbow and crazy carts.
The Fun Factory
Website: The Fun Factory
The fun factory in Dundee has a great soft play, perfectly suited for kids of all ages with rope bridges and three tier soft play for them to explore.. With an area for smaller children and a sensory room, perfect if your kids prefer/need a quieter experience, the whole family can enjoy the visit. There's also a cafe on site, which means as a parent you can happily spend the day here watching the kids run around.
Frostys Soft Play Forfar
Website: Frostys Soft Play Forfar
This play centre caters for younger children. It's a great place to take your little ones, while your older kids are enjoying the ice activities next door.
Things to do in Dundee and Angus: Rainy Day Activities for Kids, ideal for weekends and school holidays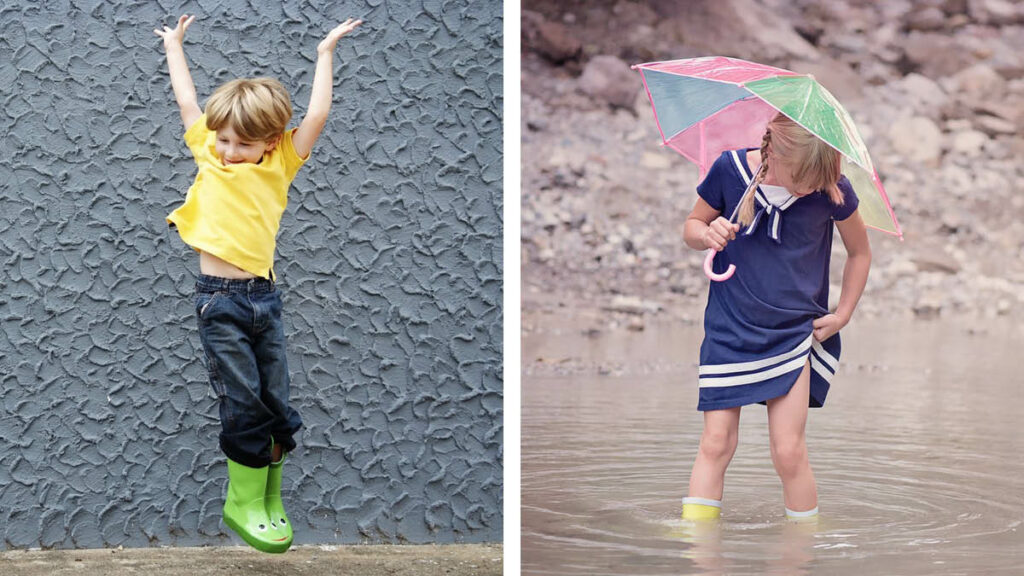 Although it can sometimes feel overwhelming to find yet another activity ALL the kids will enjoy, we actually have loads to explore right here on our doorstep. It is therefore more likely to be a problem of choosing which one- in which case why not write them on paper and pull one out every day you are looking for something to do!
Just because it is raining doesn't mean you need to be locked in the house all day. Pick one of the above activities or alternatively grab your waterproofs and get stuck into any of these activities : Things to do in Dundee and Angus: Free Activities for Kids, Outdoor Activities in Dundee & Angus (link to other blogs)