As Scotland continues to shift back into the workplace after lockdown, you might feel a bit anxious that you have all of the correct steps in place to keep your employees and contractors safe. As more restrictions are lifted the risk starts to become higher, therefore more care needs to be taken to avoid full shutdown of your site and risk to your reputation.
With many of the guidelines set out, open to interpretation, how do you know exactly what to focus on. Coronavirus disease 2019 (COVID-19) is a respiratory illness caused by a virus called SARS-CoV-2. Our understanding of how the virus spreads is evolving as we learn more about it, so you just have to do the best you can, at the moment, with the information available to you.
In this simple guide, we will advise you about the correct cleaning, disinfecting and best practices to implement on your construction facility today.
Covid-19 Construction Site Operating Procedures
#1 – Clean effectively & safely to prevent the spread of Covid-19
To correctly sanitise your construction site and facility you need to both clean and disinfect; these are two separate processes. Below we explain not only how to clean, but how to do so safely.
How to clean your construction site.
Put on disposable gloves & eye protection to avoid splashback hazards
Clean surfaces using a soap solution and water. Cleaning with soap and water reduces the number of germs, dirt and impurities on the surface.
Disinfect the surfaces using a bleach solution. Want to make your own solution? Mix five tablespoons (1/3rd cup) bleach per gallon of room temperature water
Dispose of gloves and disinfect eye protection to avoid contamination of germs.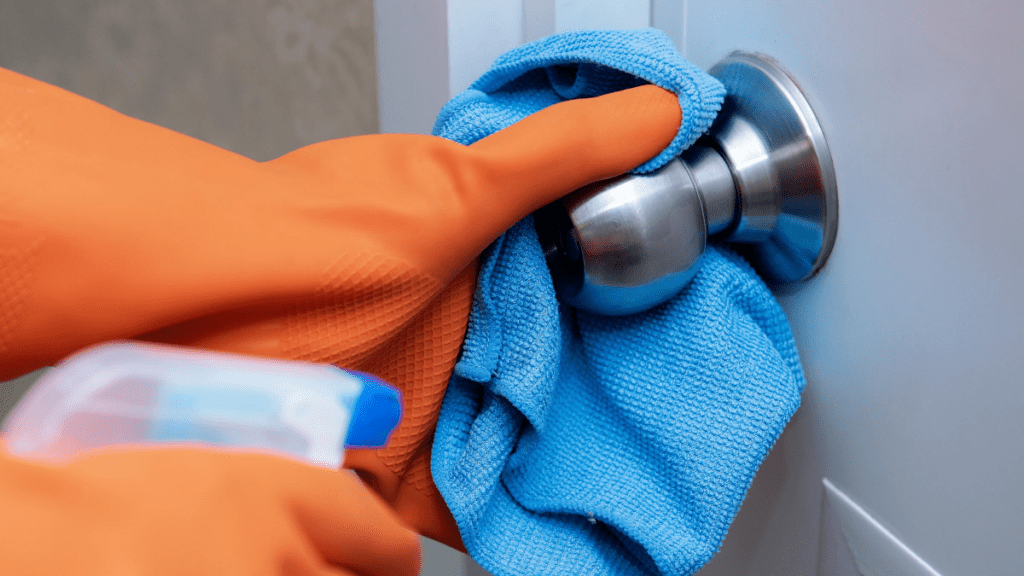 Where should I clean on the construction site?
Keeping on top of cleaning high touch surfaces is one of the key measures to limiting the spread of all germs including coronavirus.
It is important to clean and disinfect frequently touched surfaces such as shared tools, machines, vehicles and other equipment. Also focus on; handrails, ladders, doorknobs, light switches, keyboards, telephones, and portable toilets.
How often should I clean on the construction site?
Clean and disinfect frequently touched surfaces periodically throughout the shift but also:
● At the beginning and end of every shift
● After anyone uses a vehicle, tool, or workstation (limit tool sharing if possible).
Who should clean on the construction site?
If only it was as easy as asking everyone to clean up after themselves. However, over time, people will always try to cut corners especially when it is not their normal role and they are under pressure to deliver on other priorities.

Can you rely on your staff & contractors to ensure everything is kept clean and sanitised? After being shut for months during lockdown do you want to risk your construction site being shut down again and the unwanted scrutiny (and press attention) that comes along with it.

Construction sites are often worked on by a number of contractors who may also be working on other sites at the same time. You may find it more effective to organise cleaning & sanitising protocol to be met by a dedicated cleaner, who could be internal or external to the business. With their responsibility focused on keeping your sites safe, not only will you have peace of mind but your staff will feel more at ease too.

Related content – Covid-19 How to keep your home clean, 8 cleaning tips.

#2 – What are the recommendations for construction sites to prevent coronavirus disease (covid-19)?
With so many conflicting recommendations, it can be easy to get overwhelmed. We have compiled the key aspects to consider so that you can run through it when organising your site.
Handwashing
Provide employees with access to soap, clean running water, and paper towels for drying their hands. If soap and water are not readily available, provide alcohol-based hand sanitisers containing at least 60% alcohol at stations around the facility for use by both workers and customers.
Place handwashing stations and/or hand sanitisers in multiple locations (including in or adjacent to portable restrooms) to encourage hand hygiene.
Temperature Checking
Take the temperature of any personnel onsite and do not admit anyone onto the site who has a temperature greater than 37.8C. If an individual has a high temperature reading, they need to remain seated and have their temperature rechecked 15 minutes later (to rule out a high temperature due to hurrying to work). If the temperature reading is still greater than 37.8C you should follow the guidance detailed in section 3.
Social Distancing
Control site traffic in and out the site with no non-essential staff or visitors. Make sure that you have a log of all personnel who come onto the site including contact telephone numbers. If it is a busy site you could implement staggered start and finish times to reduce staff numbers onsite at any one time.
Encourage staff to practice social distancing whenever possible and ensure that there are limited numbers of staff in smaller enclosed areas such as hallways and toilets.
It is worthwhile remembering that your staff and contractors have a life outside of work, however now more than ever this could impact your business. If they are not adhering to social distancing it leaves you at higher risks to transmission of covid 19.
Canteen Facilities
Construction sites are usually required to provide employees with a means of heating food and making hot drinks. The government confirmed that these exceptional circumstances call for such equipment to be removed from the worksite where it is not possible to keep the equipment sanitised at all times. This sounds extreme, but it becomes a high risk area, as not only are people first touching the same buttons etc to make their cup of coffee, they are then moving their potentially contaminated cup to their mouth.
Suggest that employees do not leave the worksite to eat during work hours and bring in cold pre-prepared meals and reusable drinking bottles from home instead where cleaning measures. Thermos flasks & bowls are great for keeping hot coffee, tea, soup or even pasta in.
Training
As a Business owner or Manager, it is in your hands to highlight the importance of adhering to the guidelines to protect the welfare of your team but also the business.
Provide training to employees on proper handwashing practices and the above routine preventative measures. This will help prevent the spread of many diseases, including COVID-19.
Conduct weekly toolbox talks on all job sites to explain the protective measures in place, and ensure they remain at the forefront of people's minds. It will be very easy to fall back into old habits if they are not reinforced regularly.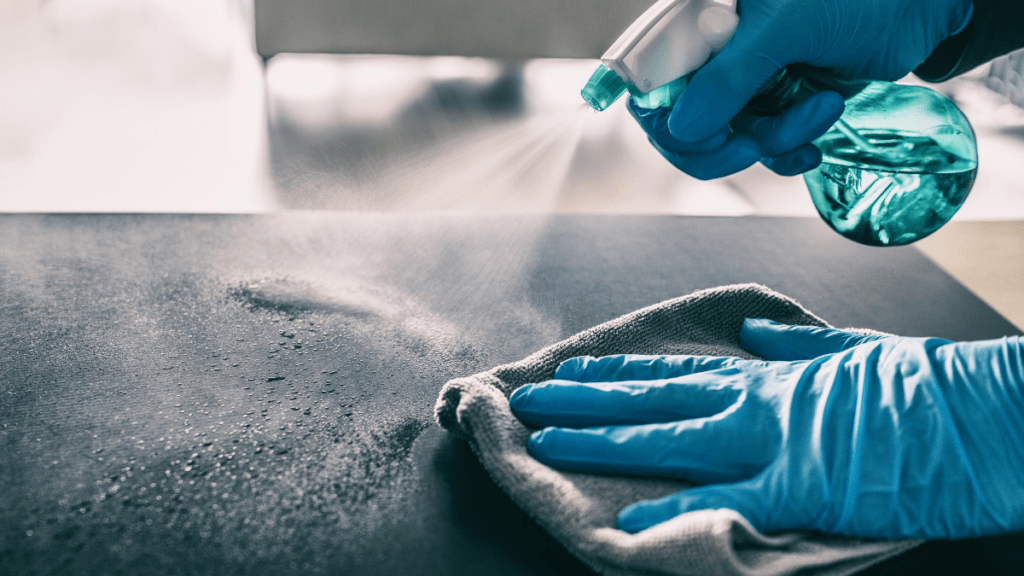 #3 – Cleaning and disinfecting your facility if someone tests positive for Covid-19.
Don't panic! There is a pretty good chance that an employee may test positive for Covid-19 over the next 12 months, the important thing is that you are prepared for what needs to be implemented.
Isolation of personnel
Employers should follow public health guidance if an employee becomes unwell with coronavirus symptoms at work. The person should leave work to self‑isolate straight away and, if possible, wear a face covering on route and avoid public transport. Direct your employees to www.nhsinform.scot or, if they can't get online, call 0800 028 2816, to arrange to get tested.

Until they have been tested and told if it is safe to leave home, employers should make sure that staff do not have to, or feel that they have to, come in to work. Employees can request an isolation note through NHS Inform.
People who have tested positive for the virus will need to self-isolate for a minimum of 7 days.

NHS contact tracers will interview them and get in touch with people they have been in close contact with, and tell them they must self-isolate for 14 days.
How to cleaning and treat an infected covid-19 construction site
Close off areas used by the person who is sick. You do not necessarily need to close the whole facility, if they can close off affected areas. Open outside doors and windows to increase air circulation in the area.
According to Health Protection Scotland's Core COVID-19 Information and Guidance for General (Non-Healthcare) Settings;
'Once a possible case has left the premises, the immediate area occupied by the individual, should be cleaned with detergent to remove organic matter such as dust or body fluids then a disinfectant applied to kill pathogens. Extra care should be taken around high contact areas such as door handles, telephones and grab-rails.
Once this process has been completed, the area can be put back into use. Any public areas where a symptomatic or COVID-19 diagnosed individual has only passed through (spent minimal time in), e.g. corridors, and which are not visibly contaminated with any body fluids, do not need to be further decontaminated beyond routine cleaning processes.' ( However, I would suggest for peace of mind you may still want to edge on the side of caution)
Hiring an expert in sanitisation could also be a more effective solution and showcase to customers/staff the care you are taking to protect them.
You should ensure that the cleaner is wearing appropriate PPE to limit the hazard to health and that they are properly trained in the correct use of disinfectant procedures as mentioned earlier in the article the wrong dilution of disinfectant will not properly kill coronavirus. Read on here for our COVID-19 protocol (link https://www.perfectscotland.com/covid-19-protocol/
If you would like more information regarding professional cleaning services for your construction site contact us here
In Summary
Over time employees may become blasé about the environment they are working in, so it is important to keep covid-19 protocols at the forefront of their mind. A consistent cleaning routine, social distancing and handwashing is essential to keep your staff and business protected.
We all want to avoid a second lockdown, which means we must all take responsibility for putting procedures in place to follow the guidelines. If you are feeling exposed but don't have the time to work through a solution please speak to a cleaning expert before it is too late.
Arrange a call to discuss your cleaning needs in Tayside, Angus & Aberdeenshire.