Regardless of where you live, finding a way to entertain the kids for the six weeks of summer holidays, can feel like an exhausting task with your go-to outings usually exhausted in the first two weeks.
By the time you travel, pay the entrance fee and then buy the ridiculously overpriced snacks (that the kids are 100% determined they need); a day out can cost a small fortune.
Finding free activities can help you keep the kids entertained without feeling like you are digging into your purse every five minutes,
We have wonderful beauty spots located all around our local area, which you can take advantage of exploring for free! So grab a picnic and get out there!!
Our Article includes:
Local Nature spots
Beach Visits
PlayParks
Cultural visits
Things to do in Dundee and Angus: Free Activities
1 Visit a Local Nature spot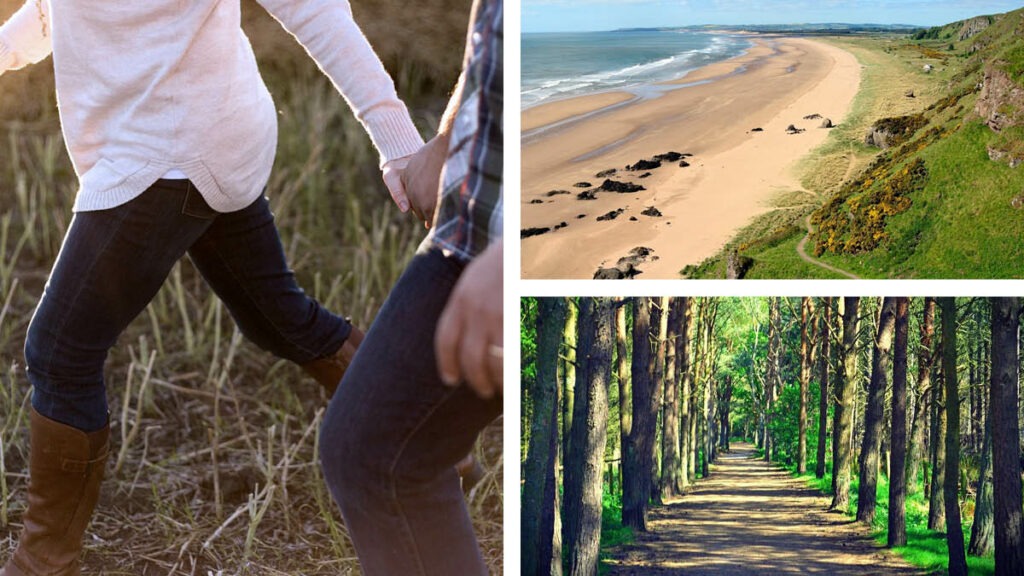 Look for wildlife, search for painted stones, do a nature trail, or scavenger hunt
St Cyrus Nature Reserve
Website: St.Cyrus Nature Reserve
St.Cyrus nature reserve is a large area of land, left from where the old river used to run. You can explore the area, see the local wildlife and even see the old graveyard. The base of the nature reserve, is dedicated to educating you about the land and animals you can find on the reserve.
Kinnaber Woods
Website: Kinnaber Woods
Kinnaber Woods, situated just outside of Montrose, is a hidden gem. The large woods are perfect for walking your dog, and as the spot is normally incredibly quiet you can be left feeling like you are the whole place to yourself! Just outside of the woods, there is more to explore with a tyre swing and trees perfect for climbing. If you are feeling up to it, you can walk across the grass to the dunes which lead you to a beach secluded from everything else.
Blue door Walk, Edzell
Website: Blue Door Walk near Edzell
The Blue door walk is a beautiful spot, located just outside of the Edzell. The walk itself takes you through the woods, next to the river. There is plenty of places to stop, rest and admire the scenery. There's a spot with flat rocks, miniature rock pools and a large rock over a deep pool, where you can jump in if you're brave enough to face the cold water!! (Although please consider all the safety factors as playing with water can be dangerous)
Walk up the Caterthuns
Website: Walk up the Caterthuns
The brown and white Caterthuns, situated near Brechin, are sites where there would have been forts in the iron ages. You can walk up these hills, and admire the spectacular views over the local area.
2 Build sandcastles at the Beach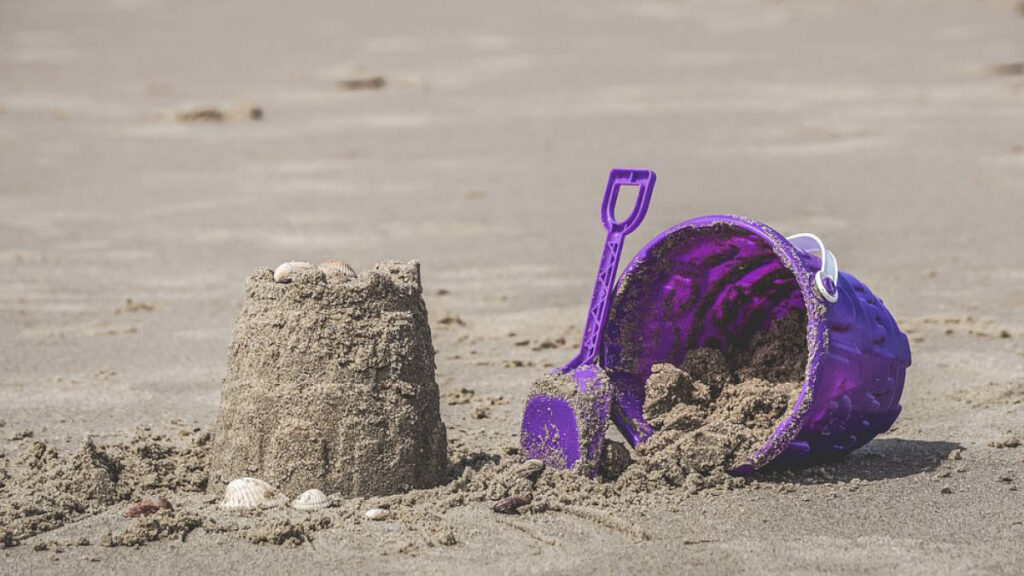 Jump the waves, dig a big hole, write your name in the sand, collect shells, play tennis
Lunan Bay
Website: Lunan Bay
Lunan Bay has a sandy beach, with large dunes perfect for lying back and sunbathing while the kids run wild! The cafe situated next to the beach is perfect for grabbing some lunch or a cold drink on a hot day. It also has a large free car park, but be sure to get there early in the day as it becomes full very quickly in the summer!
Carnoustie Beach
Website: Carnoustie Beach

This sandy beach is situated just below the Carnoustie Golf Course. It also has a play park close by, which has a paddling pool and climbing equipment, which is great for keeping the kids entertained once they are fed up of building sandcastles and swimming in the sea! You could also grab an Ice Cream from Madisons (part of the sports centre facilities)
St Cyrus Beach
Website: St Cyrus Beach

St.Cyrus beach sits at the bottom of the cliff, and next to the nature reserve. It is host to plenty of wildlife with the nature reserve being home to many birds and insects. At the cliff end of the beach there are rockpools and even a cave to explore; bring a picnic and kick back enjoying the sun on this sandy beach.
You might be lucky enough to spot dolphins and in 2018 a whale attracted people from all over!
Broughty Ferry Beach
Website: Broughty Ferry Beach
This beach is surrounded by dunes and boasts incredible views of the surrounding area. Windbreaks are available to hire and volleyball nets are often put up during the summer. With plenty of cafes and attractions nearby, it makes a great day out for all ages!
Edzell River
Website: Edzell River
Edzell River hosts two beaches, the first a small sandy beach with large flat stones that kids can use to hop over to paddle in the river. The 'Shakin' Brig' bridge then takes you across to the second beach (stones) where you can sunbathe, hunt for pretty pebbles and shells or skim stones along the river.
Arbroath Beach
Website: Arbroath Beach
Arbroath beach's sandy shores makes it a great place to visit with young children who want to build sandcastles. There's also a huge children's play area nearby with seperate skate park – perfect for amusing kids of any age.
Easthaven Beach
Website: Easthaven Beach

Easthaven Beach is half way between Arbroath and Carnoustie and is a mostly sandy beach. There is an off road cycle track that you can take to get there from either end or a car park located just a stone's throw from the beach.
The beach has lots of large rocks and rock pools which become visible once the tide goes out, making it great for exploring! Popular with families and walkers, it is a great place to swim or relax.
3 Head to an Outdoor Play Park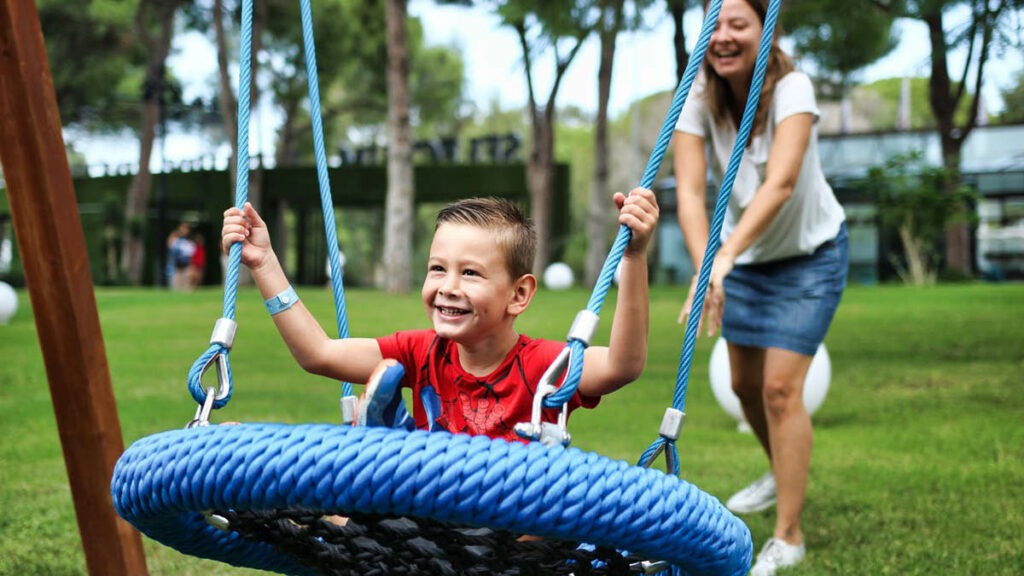 Dip in the paddling pool, have a picnic and go wild on the outdoor climbing frames and swings.
Arbroath West Links Fun Park
Website: Arbroath West Links Fun Park

This Arbroath fun park has so much for your kids to get involved with! Hosting a variety of equipment for all ages and abilities this park spans 0.4km of the Arbroath Harbour. As well as the traditional climbing frames, slides and swings it also has a seperate skate park. Activities such as mini- golf or mini racing cars, do come at an extra cost, but there is enough free activities to keep the kids entertained for hours.
Sea Front Splash, Montrose
Website: Sea Front Splash, Montrose
The Sea Front splash hosts four main activity areas;
A small park, designed so that you can let the younger toddlers run off steam within a secure gated area
An enclosed sand park for younger kids with small water fountain, boat and slide.
A large park with multiple climbing frames, flying foxes, sand diggers and swings
A large paddling area, which is fabulous for cooling off on a sunny day so don't forget to pack the bathers!
Carnoustie Sandy Sensation
Website: Carnoustie Sandy Sensation

Carnoustie park provides wooden playgrounds for both younger and older children. It also has a large splash area and paddling pool as well as a crazy golf course and tennis courts. It makes a great day out on a sunny day, just make sure to bring your towels!
Broughty Castle Play Park
Website Broughty Castle Play Park

Broughty Ferry playpark is right next to the castle and beach, making it an action packed day trip. There's large wooden climbing frames, swings and slides. There's also little kiddie-cars, crazy golf and a water feature for the kids to enjoy. I'd advise nipping round to vissochi's afterwards for one of their award winning ice creams!
Camperdown Country Park
Website: Camperdown Country Park
Camperdown Park in Dundee is situated near the wildlife park. It is so huge that they've zoned into four separate areas and they've just transformed the area where the motorised boats used to float. There is equipment such as slides, climbing nets, and suspension bridges.During the summer holidays and weekends the tuck shop is usually open selling refreshments and ice creams.
Crombie Park
Website: Crombie Park
Crombie Park in Arbroath has 200 acres of woodland, situated around the loch. You can enjoy woodland trails, learn about the history of Crombie and spot wildlife. There is an adventure play area perfect for kids. There's also an orienteering course available all year, with a junior course perfect for kids. Facilities within the park include a barbeque/picnic area, a visitor centre and a ranger service.
Monikie Park
Website: Monikie Park
This Country Park has an adventure play park, perfect for kids to blow of steam. This Park also has self led trails, guided trails and the option barbecue hire. The biggest attraction of the park is the 50 acre watersports site where you can take part in a number of water activities including windsurfing and sailing. And as it has a restaurant open throughout the summer, it can make the perfect day out on a sunny day.
4 Cultural Visits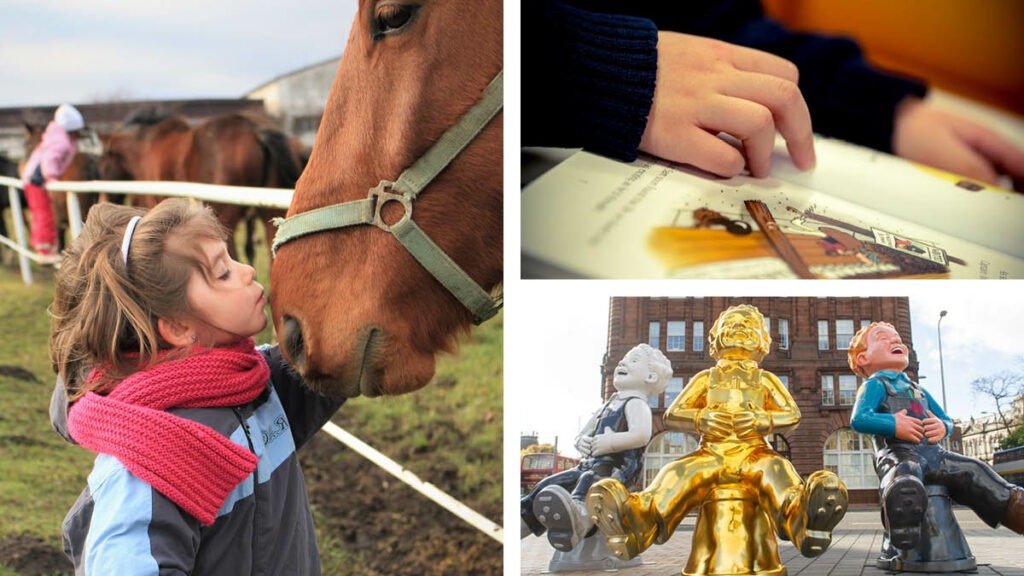 Teach them about local history and discover the arts
Carlungie Earth House
Website: Carlungie Earth House
This earth house, dates back to the iron age. Here your kids can explore, see objects found at the site and learn about the iron age and importance of archaeological digs.
Redwings Horse Sanctuary
Website: Redwings Horse Sanctuary
This horse sanctuary found outside of Forfar, is home to 1500 rescued horses, ponies, mules and donkeys. Here you can get up close with the residents, and learn their stories. Once you have finished visiting the animals you can grab a cup of tea in the cafe and visit the gift shop.
Arbroath Signal Tower
Website : Arbroath Signal Tower
The original onshore accommodation for the Bell Rock Lighthouse. The museum is located near the harbour, and allows you to learn about the maritime heritage of Arbroath. Watch the webcam out at Bell Rock, and learn about the local history of fishing and the lighthouse.
Take part in the Our Wullie Trail
Website: Take part in the Oor Wullie Trail

2019 sees Oor Wullie taking over Scotland! Aberdeen, Dundee, Perth, Glasgow, Inverness and Edinburgh are the key trail locations with over 200 to find. This trail lasts all summer, so grab the kids and get them involved with spotting these statues.
Visit your Local Library
Website : Local Library

The idea of entering a library, where you have to be quiet, can seem daunting when you have children who seem to manage to make noise wherever they go.
However Libraries can be a great experience, with timetabled activities and a children's area where kids can enjoy some calm time to unwind.
If you have kids pre-school age and under, you can attend bookbug sessions, aimed at improving your little ones social skills and language skills! Ask at your local library for more information or check out the link here: Scottish Booktrust Bookbug Sessions
Things to do In Dundee & Angus: Free Kids Activities
Sometimes the simplest of activities can bring hours of entertainment and joy. Reflecting back on your own childhood I bet you can remember loads of happy memories, building dens or playing at the beach.
What have we missed out?
Please share your ideas so we can help every busy Mum and Dad out there looking for new ways to entertain their kids
Watch out for more of Things to do in Dundee & Angus series.